Random Thing 1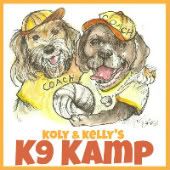 K9 Kamp Pup and Human Fitness Challenge!
Grab your gym bag, grab your pooch and get moving! From Sept 8 to Oct 13 head over to
Kol's Notes
and
Peggy's Pet Place
to get your weekly fitness challenge instructions. Don't worry they promise to start off kind and slowly kill us with harder demands! I have no more excuses not to get out there. My area has cooled down so I'm ready to roll along the hiking trails again with dogs, camera and husand in tow. Read Kol's own story on why he needs to personally get fit
here.
Random Thing 2
October marks the one year anniversary of acquiring my first DSLR camera and I have embraced every minute of this journey spent learning. It all started with finding
Scruffy Dog Photography.
The minute I viewed the creative, unique works of Illona Haus I was inspired to try and learn to take better photographs of Kodee and Becky. So I did what any half-crazed, desperate person does - first harassed my husband till a camera graced my hands and second stalked Illona through her
Scuffy Dog Blog.
The one thing that really strikes home with me about her photographs are the little, personal details she captures. I really want to have these small details to treasure for my lifetime of Kodee and Becky. Subtle things like a paw, or the tip of their nose in close detail. I want more than a photograph of a dog sitting staring up at me.
So this week when I read that Blacks Photography had interviewed Scruffy Dog Photography, I just had to share it with you. Watch it - I promise you'll love it.




Random Thing 3
Joint Care Help!
Kodee is on a medication that contributes to bone loss. I do what I can to lessen any joint damage and to hold off the development of arthritis by using glucosamine and chondroidtin. Fish oil has never agreed with Kodee's tummy.
So I stopped by the Pet Store today and saw for the first time
Sasha Blend,
a Canadian product.
"It's more than just "glucosamine and chondroidtin. It is a rich source of natural compounds including the full range of GAGs that have joint protective properties".
Ok... not sure what all that means so I want to know if anyone is familar with it? If not which product do you give Top Dog Rank for joint care and why. I appreciate any insight you can give me and Kodee's joints thank you.
~ Ramblings by Debbie!
Click the logo to visit more bloggers hopping this Saturday!