Well Who Do We Have Here?
None other than Miz Becky & Miss Kodee!
~~~~~~~
I've been busy buying myself presents this month! They are such unique, handcrafted treasures I wanted to show them off. My family is not jumping up and down with me due to the fact they are dog items - but I figure, anyone reading this will be!
First up, these amazing portraits of my girls were painted by
Erica Vojnich
. Her one of a kind,
"Mini Pet Portraits"
are drawn using a combination of coloured pencils and paint. They are 3"x3" and you also get to choose your canvas and ribbon colours.
This versitle painting can be hung on my wall or Christmas tree plus displayed on an easel. I know I will treasure these for years to come.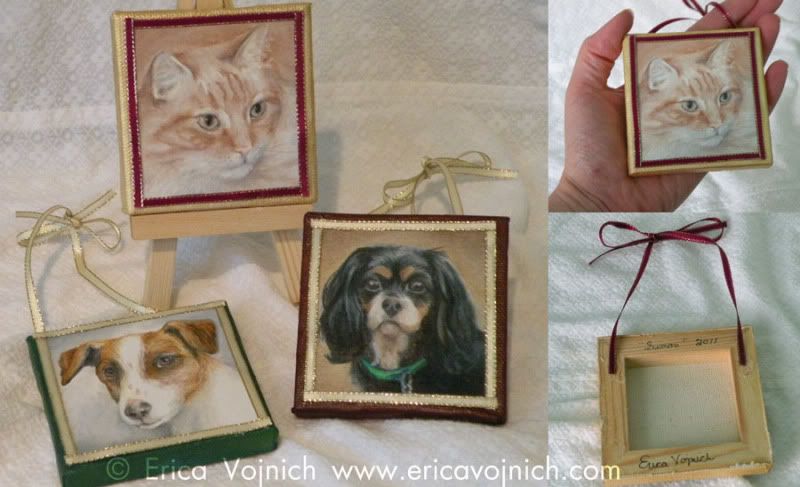 Really I should have stopped spoiling myself here but having been SO GOOD this year, I decided it was quite alright to keep spoiling myself!
Next stop
www.spanielbowls.com
to pick up Becky her very own pottery drinking bowl as Kodee snorts if Becky uses hers. Did I hear someone say my dogs are spoiled?
Spaniel bowls really benefit any dog with long feathered ears to help keep them dry, clean and tangle free. There are also regular shaped feeding bowls to choose from. I already know next year I am looking to add 2 small feeding bowls in blue to go with these. Each bowl is handcrafted and custom made with no two a like. They are specially crafted
Stoneware or Porcelain.
I have wonderful snoods but Cindy surprised me by including a butterfly shaped snood! Such a creative design and I love this fabric on a black & tan! Becky's personal thoughts were much more basic; snood = food. Serve it up now please!
I'd like to say that took care of my November self gratification for the Princesses but alas, last weekend was also
Winter Woofstock
. Look out Miss Kodee & Miz Becky
Chris Christensen
Spectrum 10 Shampoo is coming to your tub in less than 12 hours!
~ Ramblings by Debbie